Archive for June, 2006
June 21, 2006
For the next two weeks, I'll be in a cabin in the woods here.
June 13, 2006
I wonder if this really is the first instance of product placement in a YA book, or if it's just the first product placement in a YA book that's being disclosed as such. Alloy Entertainment (those folks who bring us Gossip Girls and A-List) boasts on its corporate site that it "partners with clients to facilitate brand integration or product placement within popular youth media – books, internet, online gaming, film and TV." The current VOYA features an interview with Emily Meehan at Simon & Schuster where she says that packaged books are "completely freelanced. From proposal to finished books, all author hunting, copyediting, research, designing, proofreading, and sometimes editing is done by the packager. We get a finished disk with the book and its jacket on it." She adds that they are "involved in every step."
Still, I wonder.
Then there are the Limited Too books commissioned and sold by the chain and featuring its clothing, and the Roxy Girl books, commissioned by the Roxy Girl clothing line and published by Harper.
June 4, 2006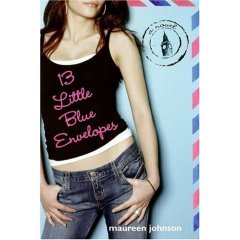 Today's NYT Book Review features The Geography of Girlhood by Kirsten Smith. After reading the review, I went to look the book up onAmazon and found myself looking the cover thinking, I have seen this before. And yes, I pretty much have.
Compare and contrast: So we've got two brown haired gals in jeans and tanks with just about the same amount of exposed midriff. We've got writing on the bodies of both. We seen the chins and lips of both. A little nose and ear on Envelope Girl. And I guess if you wanted to press it you could say that Envelope Girl–can we really call it a girl? it's just a torso–looks a little more open to who-knows-what possibilities than Geography Girl, whose shoulders are slouching inward.
And? So? What does it mean? That today's book designers are terribly unoriginal? That sex sells? Oh now that's original.