Stalker Girl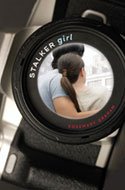 She wasn't always like this.
Carly Finnegan has a life. Not a perfect life, but a life. She has friends, a cute little sister, a passion for archaeology. But then Brian, her first love, breaks up with her, and Carly is crushed. When she discovers he's seeing someone new—Taylor Deen—she's devastated. Yet also curious. What does Taylor have that she doesn't?
Thou Shalt Not Dump the Skater Dude
Tall, blonde, and pretty Kelsey dumps her skater boyfriend, who doesn't react well to the breakup. Now she's hard at work saving her reputation and working on her new identity as a star reporter for the school's newspaper.
My Not-So-Terrible Time at the Hippie Hotel
Tracy's summer vacation couldn't start off any worse. Her father has dragged her to Farnsworth House, a.k.a. the Hippie Hotel, on Cape Cod. It's a place where divorced parents bring their children for quality "Together Time." Tracy dreads the whole idea, until she meets the other girls her age at the hotel. They seem friendly and fun. But they're also great at flirting, which Tracy definitely isn't. When Tracy meets Kevin, a cute, smart guy, she panics. With pretty friends like Kelsey and Beka around, how can Tracy possibly interest Kevin? Then again, maybe she is someone worth knowing, and maybe Kevin thinks so too. Filled with strong, appealing characters and heartfelt narration, this is a touching and memorable first novel.